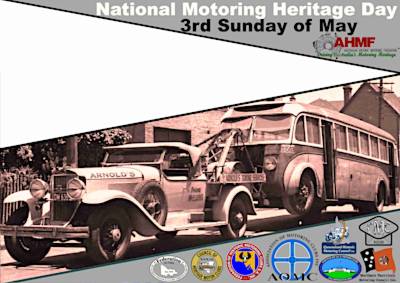 National Motoring Heritage Day
National Motoring Heritage Day was first celebrated Sunday 20th May 2007. It has been celebrated across the nation every year since. National Motoring Heritage Day is the 3rd Sunday of May annually.
National Motoring Heritage Day is an initiative of Australian Historic Motoring Federation, with the aim being to promote and display Australia's strong motoring heritage and also show the community, business and government the strength of the Australian historic motoring movement.
These historic vehicles bring enjoyment to their owners as well as the public. Australia's historic motoring movement has a massive input into the economy, with vast sums of money spent on restoration and maintenance of motor vehicles. There is also a vast economic benefit to businesses (e.g. motels, caravan parks, hotels, restaurants and service stations) in the towns and cities where events are hosted. Many Councils throughout Australia can see the benefit to their communities and welcome events with open arms.
All motoring clubs are encouraged to participate in an event on this day as, without promotion of our hobby, the government and community support may gradually fade and concessional registration schemes may be lost. Our vehicles are a "Mobile museum" of which we are the custodians. These vehicles need to be viewed and enjoyed by the public.